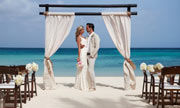 Romance is always in the air at Fire Island! Whether you are getting married, renewing your wedding vows or spending your honeymoon at our idyllic Ocean Beach location, let us take care of your needs.  Our on-site professional wedding planners are at your service.  You will be transported to your wedding ceremony on the ocean by a 9 person "limo cart" decorated according to the brides color scheme.  Once you arrive you will find a beautiful scenic setting.  With an ocean beach or bay front backdrop the arbor is decorated with beautiful flowers and white flowing tulle, chairs are arranged in formation so all guests have an unobstructed view of the ceremony.
Our on-staff team of Marriage Officiants can do almost any type of wedding ceremony you would like.  Religious or Non-Religious ceremonies, Non-Denominational Weddings, Themed Weddings, Vow Renewals, Interfaith, Commitment Ceremonies, Traditional, Contemporary, Simple and Fun.
No effort is spared to ensure the most memorable experience has been had for you and your guests.  Our picturesque scenery includes gazebos, lush gardens bayside and beachside locations, perfect just for you.  Want more….we will work in conjunction with your wedding venue to make the most of your celebration with a roof-top "after party reception".